Patients know the solutions to their problems. They just do not know that they know.

Milton H. Erickson
Therapy is a process, a meeting with another human being that allows us to get to know ourselves and understand ourselves better. It allows us to discover our resources and use them in a way that gives us fulfillment and satisfaction.
Let us meet.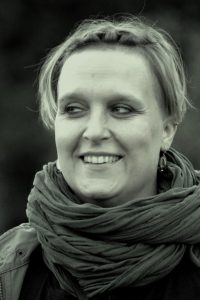 I am a psychologist and a psychotherapist. I graduated form the Psychology Faculty at the Warsaw University. I also completed studies in Medical Psychology and Psychiatry at the Universitat Autonoma in Barcelona and a complete training cycle in Families Therapy at the Polish Ericksonian Institute in Łódź. I am a cognitive-behavioral therapist certified by the Polish Society for Cognitive Behavioral Therapy (certificate no 192). I have a vast clinical experience acquired at the Institute of Psychiatry and Neurology, the Anxiety Disorders Unit at the MSWiA Hospital, the Nowowiejski Hospital and a private practice. Apart from working as a therapist, I also teach, among others, at the Medical University of Warsaw, at the University of Social Science and Humanities (SWPS, Wroclaw Campus) and at the Psychology Faculty at the University of Warsaw. I also teach courses on cognitive behavioral therapy and therapy and development foccused workhops. I am a member of Polish Psychological Association and Polish Association for Cognitive and Behavioral Therapy. In my work I mostly employ the ericksonian and cognitive-behavioral approach.I feel that I need to grow constantly and be able to use different approaches and helping methods in order to adjust the therapy according to the client's needs. I improve my skills participating in conferences, workshops and training courses. Currently I am taking part in a four-year training in the field of Bioenergetic Analysis (therapy that combines work with the body and the mind by Alexander Lowen) accredited by the Florida Society Bioenergetics Analysis.
I submit my therapeutic work to regular supervision by Polish Psychological Association and Polish Psychiatric Association certified supervisors.
The scope of assistance:
I conduct psychological consultations (a single meeting in order to diagnose the problem and indicate the possible directions of assistance) and short and long-term therapy. I offer my assistance to adults, couples and families.
I provide help to people who:
experience difficulties in relations with other people
observe decrease in their activity, loss of interest in pleasure, feel an aversion towards activity
suffer from anxiety disorders (phobias, panic disorders, social phobia, obssesive-compulsive disorders)
experience stress, nervousness
are in a difficult life situation and need support and help
have somatic diseases, struggle with pain problems, isnomnia
want to change their life
want to know themselves better, understand their choices
I belive that we all have a potential and resourses that will permit us make our lives extraordinary. The difficulties experienced throughout life are an element of growth.The therapeutic process is accompanying in search for an individual way, finding our own responses to the questions that we ask, discovering the sources of our strenght and power.
Katarzyna Pietroń.
Therapy online or in person, in Cracow.
Tel. +48 781 968 599